Paris Diaries: Marie Antionette is the Real Queen of Vegas
"For is there anything more stupid than to want to bear continually a burden that we always want to throw to the ground? To regard our being with horror, and to cling to our being? In fine, to caress the serpent that devours us until it has eaten up our heart?"-Candide by Voltaire
I wake up the morning of my trip to Versailles from a nightmare. In the dream, the one I have come here to forget has come here. He has called to tell me he is here in Paris.He got a job on some werewolf movie, probably the sequel to the craptacular an American Werewolf in Paris. I'm thrilled to have him here. I think ab
out how I can show him the Musee de Rodin and the D'orsay. See the look on his face as he walks
up to the Louvre for the first time.
Hold his hand for his first night in Paris. Feed him decadent chocolates from the Rue de L'Opera. Teach him about love in the city that was made for it. But I soon discover even in my dreams in Paris, dreams don't come true. He won't come out unless it's with the people he is working with, with a group. Finally, humiliated and exhausted trekking around with him and his group of wannabe filmmaker friends, I wish he had never come. I decide to pretend that I am alone in Paris. Let him find his own way. Without me.

I
wake up sad and lonely yet again wondering if this is the right idea. It looks like it's threatening to rain outside. But it had been like that every day I had been in Paris, so I decided to pack up my camera, a chocolate bunny, some bread and goat cheese, and a book. I was going to Versailles.


At breakfast, a man hovered outside while I enjoyed coffee, a croissant and a cigarette. One of the things I deeply love about Paris is it is still home to the deeply philosophical smoker. One can sit w
ith coffee and cigarette in hand scribbling away notes pretending to be Proust for as long as one wants without being bothered. God bless their black little lungs for that. I knew this man was most likely hovering because he wanted to hit on me.
Sure enough the hovering pounced as soon as I began to walk to the metro station. He followed me as far as the turnstile before he gave up. When I transferred onto the RER to Versailles another man strangely mafioso looking man gave me the usual "Ca va." I did my best to channel Greta Garb,o and said I was fine but I wanted to be alone. He left but not before saying something I couldn't possible understand. I'm fairly sure that it was incredibly dirty. It left me feeling dirty and used even though I couldn't understand it. But in a way it made me feel better. I was beginning to worry that I had lost my touch, but here I was in my green t shirt and jeans, still trying to banish the memory of my nightm
are, and I managed to turn down two guys. This was the Paris I remembered. This was the Paris I needed.
All of my friends who have been to Versailles told
me that I could do it one day. I was tempted to book a hotel and do two days, but I was warned time and again I would end up stranded in a one wonder town with nothing to do pining for Paris. And so, like a fool, I listened and decided to just spend a day in Versailles.

It might be a one day trip for most people, but for a disabled scholar with a great love of histo
ry-one day is not enough.


I didn't really have a plan for Versailles.
I had given up on consulting guides and books and notes by now. Certainly I knew enough about the hi
story of these places that books were essentially superfluous. Except for one
thing. I don't have a visual imagination. I read all about castles and battles and courtesans, but my ability to accurately imagine them visually is, well...Let me just say this. Despite the fact that I had read Athenais : The Real Queen of France which gives detailed description of Versailles and the Trianon, I had no idea what was waiting for me after I walked through that gate and saw the gardens of Versailles.


They went on forever. There were even little golf carts that you can rent to drive around the gardens. I thought about getting one, but, well, I felt bad being alone and getting a golf cart. I thought, as I always do, I can do this alone. I can.

I got this far on my own, right?


So I started to meander down the gardens. I knew I wanted to see the Trianon and the Petite Trianon and especially the little Alpine village that Marie Antionette had built.


I wandered through trimmed hedges.
Imitation Roman Forums. Forests grown wild. Immaculately tended flower beds. It was easy to understand how the scandal and intrigue at French court could have played itself out here. How one could easily rape a maid as seduce a lady in waiting in the high hedges. Unfortunately one could also be stumbled upon by an unsuspecting aristocrat or even worse spied upon.

I rested often on the benches, sweating in the heat of the now shining sun. I pondered how oppressive it must have been wandering these gardens in tightly laced bodices layered in silk and lace. Not able to tear off all the courtly attire and dive blissfully into the fountains or run into the cool shade of the trees in pantaloons and a chemise.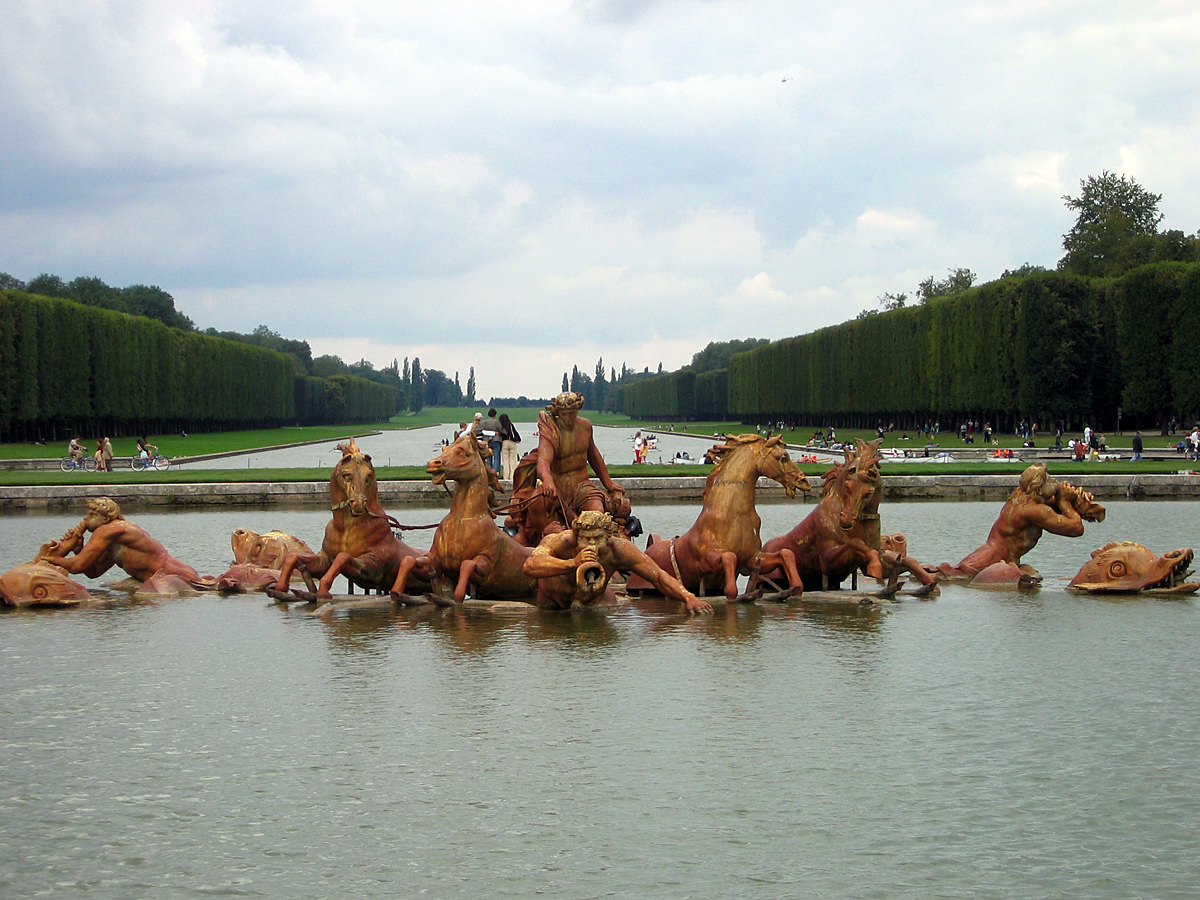 Slowly I made my way
down to the manmade pond so large that mock naval battles were sta
ged
there. The fountains here, always a weakness of mine, were spectacular, and I tried to imagine the days when these fountains had been timed to coincide with the daily movements of the Kind of France.

The walk down had been long and tiring. I decided that I would have a snack and rest a bit before continuing the rest of the way to the Trianon. I sat in the shade and ate my decadent chocolate rabbit with the hazelnut praline center and thought for a moment that I really understood what it was to be at Versailles as I looked at the fountains and the gardens. Not far off, an American man in khakis answered his cellphone. "Yeah, no I'm at Versailles. Yeah it's good."

There are days when I wish the French would at least considering bringing back the guillotine. When Americans complain about how rude the French are they have no idea how much rudeness the French actually tolerate.

After a bit of a rest, I continued on to the Trianon, which had been built for the Marquise de Montespan, mistress to Louis XIV. I had to walk through almost a mile of high green grass before I managed to make it to the Trianon.The Trianon was built with an eye to what the King's needs. Thus it features a neoclassical facade, delicately manicured gardens, large sumptuous rooms for entertaining in the style a King would need. Thus it was simply a smaller and more private reflection of Versailles itself. While, banking on the popular movie, the French tourist board is currently using Marie Antionette to market tickets to both the Trianon and the Petite Trianon, Athenais AKA the Marquise de Montespan was behind the Trianon, but not the Petite Trianon, which was clearly devised with a different taste in mind. While the Marquise loved court and to entertain in the decadent style of the Sun King, the Petite Trianon was meant to be a more private residence. There are no large sweeping rooms here. Instead the Petite Trianon with its small rooms (comparitively) gives the impression of being essentially a decadent royal hidey hole. Even her private bedroom had a single bed. Thus while the Trianon was essentially a love nest for the King and his mistress, the Petite Trianon was a private escape for just the Queen.

Marie had a large rose bower planted outside her bedroom at the Petite Trianon. Now true at Versailles considering the lack of washing and the several layers of clothes that bower was probably necessary, but it was a lovely romantic touch. The roses, which still grow there, are lovely and fragrant, and I imagine waking there to the scent of fresh roses first thing in the morning must be glorious. There is also a lovely babbling brook
(manmade)
outside of the bedroom, and it is a little known fact that the funniest sounding frogs in the world live in that brook, which entertained me.

But while the rose bower and manmade brooks demonstrated a delicate feminine appreciation for natural beauty, I was less impressed with the Temple of Love, which was tacky. But nothing prepared me for the small Alpine Village by the Petite Trianon. My legs were exhausted, but the minute I saw it I knew that I had to get there. And so despite the pain, I hauled myself down the winding paths because this was my one day in Versailles. I knew I wouldn't have the strength to come back.


Nothing I can write can prepare you for Marie Antionette's Village; I know because nothing I read
prepared me for it. I mean I knew intellectually that she had built an Alpine village, but then you see it off the distance. You see a freakin' windmill and the little chalets and you think, "I can't believe this bitch built a whole village completely with 'refreshment diary' for her guests." And you begin to understand how she got herself decapitated. I mean long before there was Vegas, there was Marie Antionette. She would have loved the Strip the trampy glamour, the utter lack of restraint, the sumptuous decadence, the focus on satisfying every desire no matter how sordid, no matter the consequence. Because Marie Antionette wasn't really the Queen of France, she was the True Muse of Vegas.

So I slowly limped around the village, the windmill, the gardens, the chalets, finally finding a place to sit and rest in the shade of the Queen's Apartment. I looked and my left foot, which I thought a few times was swollen , was now undeniably swollen. My entire left foot was swollen. A woman with a cane sitting next to me looked at my foot and proclaimed that if she was me she would be worried and see a doctor. And then after planting that anxiety bomb, she left me. In the high wild grass of Versailles, far from the
Palace, the RER back to Paris, and even farther from home. I sat there looking at my foot absolutely terrified about what could be wrong.And I felt completely alone. I felt like my body had become a hollow echoing basin of loneliness. Who could I tell? What was I going to do? My eyes filled with tears, and I almost cried.

Almost.

Years ago, when I had been dating Israel he told me once, "You are a Queen, and this is just a walk in the park." I was going to make it. I always had. I didn't come all this way to fail here. And I certainly didn't come all this way to cry. Christ I did enough of that in NY. I had never cried in France, and I was not going to start here in the shade of the bedroom of the most decadent Queen of all time. I slowly limped by towards the Petite Trianon to catch the little bus back to the top of the hill. By the time I got back, Versailles was closing. I hadn't even made it inside the palace to the Hall of Mirrors. And even if I could, I needed to walk home.

I slowly limped to the train beginning to realize in my grand brilliance I hadn't put on sun screen, and I was now sunburned to a glowing red. This is why I'm a scholar people. Because I knew I was going to the Palace of the Sun King in May, it NEVER occurred to me wear sunscreen. As I sat on the train feeling my skin radiate the warmth of the sun, I noticed the girl sitting next to me was reading one in a series of french self-help books. She finished one and then picked up the next one titled "La Resilience." I want to tell her that she is sitting to one of the greatest living examples of La Resilience. That I was demonstrating my abilities as she slowly flipped through her book. But I remained silent, and she didn't even notice me.

At one of the stops I saw an obese elderly woman wearing a Las Vegas visor, metallic Adidas pants, holding, inexplicably, a coffee mug hobbling towards the train. Not to be a fashion Nazi, but OK I will. If I find out that any of you twits are wearing t-shirts with American cities proudly written across them when you are in France I will bring back the guillotine for you.

On the walk back from the metro I noticed a little restaurant named Au Petite Monsieur. I knew I didn't have the energy to make it far that night, but I also knew I had earned a seriously decadent dinner. Au Petite Monsieur looked like the type of hidden decadent restaurant that only the locals know about it. Perfect for what I was looking for. The owner was a lovely little man who bore an uncanny resemblance Terrance Mann.I made a reservation and made it back to the hotel to shower and change.

But not before I bought a Smirnoff Ice at the marchette on the corner. I knew the hotel room didn't have an opener for a bottle of wine, but I thought the Ice would be a twist off. It wasn't.

You don't know you're an alcoholic till you find yourself in a hotel room in Paris attempting to open a bottle of Smirnoff Ice with a fork. But I wasn't born into the Speigelman clan to be foiled by something as simple as a bottle cap. Mere Lapin once made a Christmas tree stand with nothing, but kitty litter and twine. I managed to get the top off in three minutes.

If you ever go to Paris, find Au Petite Monsieur on Rue d'Amelot. It is simply one of the best dinners you will ever have. I ordered an appetizer with a poached egg. I had never had a poached egg before. And I thought while I was eating it that I would never ever eat another egg again so as to preserve in my memory the perfection of this egg. It was the dinner I needed to have, suitable for Athenais herself and finished off with some cognac.

I climbed under the covers to my bed thinking that the next day everything would be better. Everything would be alright. It had to be. Because it was Paris.





Labels: marie antionette, the marquise de montespan, versailles
Bad Bunni posted at
10/12/2007 05:42:00 PM
|
I Wanna Be Sedated
Sleeping rabbit.
Originally uploaded by westphoto
So on three hours of sleep, I have, in a personal record, graded almost 30 reading logs in less than 24 hours.
I am, now, so sleep deprived, that I am entertaining myself with questions like "Can I talk presidential candidate Fred Thompson into using a Thompson Twins song (like Hold Me Now) for his campaign song?"
In what can only be called tempting fate a group of male teenagers were sitting on the bus next to me as I furiously corrected entries on Augustine's Confessions. They were debating the age old questions "Is it easier to fuck a high school girl or a college girl?" The loudest one was proclaiming that college girls are easier. (This might have to do more college girls have access to a private room than the moral flexibility of college girls vs high school girls, but then what the hell do I know.) Being sleep deprived, I am also cranky, and therefore very close to grabbing one of them by the throat and proclaiming that if I was to emasculate the disrespectful lot of them and then pour lemon juice on the gaping wounds they wouldn't be likely to "score" at all regardless of the age/educational status of the intended target.
I managed to control myself, but if I were you I wouldn't make any sudden moves around these parts.
Bad Bunni posted at
10/10/2007 09:49:00 AM
|